James Cook
---
Director, Head of Child Care & Public Law Team
Department: Child Care & Public Law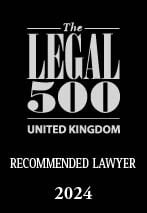 James Cook trained and qualified at a South Yorkshire firm where he specialised in family and immigration law.  James joined Ridley & Hall in 2006 and continued his expertise in family law focusing primarily on representing parents, family members and children in care proceedings.
James has been a member of the Children Panel since 2009 and has represented children both through court appointed Guardians and directly.
James undertakes a wide range of family cases, he has represented families on numerous cases when extremely serious findings are being alleged including those of sexual and physical abuse.  He has and continues to represent families successfully both locally but also nationally in England and Wales including Birmingham, London, Bristol, Nottingham, Cambridge, Cardiff and Manchester.
In addition to care proceedings James has represented parents/children in cases involving contact, residence and adoption.  He has also represented clients in cases involving the abduction of children, removal of children from the UK and injunctions under the Inherent Jurisdiction of the High Court.  James has represented parents in cases in the Court of Protection, High Court and Court of Appeal.
He has also represented parents on breaches of their Human Rights by Local Authorities.
James's client focused approach is both sympathetic and understanding whilst still giving clear advice.  James strives to ensure his clients are treated fairly by all professionals, no matter what the circumstances, to ensure they have the maximum chances of success.  James is a pro-active family litigator who isn't afraid of ensuring his clients cases are fully challenged when required.
James became a partner on the 1st October 2009 and heads the Child Care and Adoption Team.
James held the post of President of the Huddersfield Incorporated Law Society between November 2011 – January 2013, having been the vice-president in the year preceding this.  James remained a member of the law society committee until 2016.  He became a committee member of the West Yorkshire based Lawyers for Children (LFC) in 2016 and is currently LFC's treasurer.
James has provided training for Huddersfield University and West Yorkshire CAFCASS.  He has also spoken at the national Community Care Conference in London on Special Guardianships.
James is a regular runner and has completed a number of ½ marathons over the last five years for charities.  James has raised money for charities including Dementia UK, LIVES and Kirkwood Hospice.
James assistant is Nicki Butterworth.
Testimonials:
"James Cook is a very experienced advocate who works above and beyond for each client. James is passionate about the rights of the children, ensuring that he skilfully advocates to ensure that their voices are heard."
---
Child Care & Public Law Team
---