Sarah Young
---
Director
Department: Litigation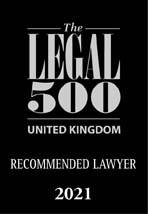 Sarah Young is one of a limited number of lawyers in Yorkshire who specialise in contentious probate law, which includes advising on – amongst other matters –  inheritance disputes, problems with executors and arguments involving trusts and the Court of Protection.
Sarah is also a specialist in the law surrounding missing people, which has been recognised in the latest issue of the Legal 500. She works closely with the charity 'Missing People' and has long campaigned for legislation to be improved in this area.
In relation to her contentious probate practice, she represented the claimant in the much reported 2014 case Wright v Waters.  The decision is of huge significance to adult children who seek to challenge a parent's Will, having been estranged from them.
In February 2019 Sarah represented the successful claimant, Lynsey Delaforte, in her Inheritance Act claim against her late grandmother's estate. Lynsey had selflessly cared for her grandmother, who suffered from advanced dementia for 7 years before her death. The will dispute ended up before a Judge in the Central London County Court where Lynsey's uncle, Paul Flood, tried to argue that his niece had no right to bring a claim as she had effectively acted as a carer on a 'commercial basis'.  The argument collapsed on cross examination and the Judge awarded Lynsey £110,000 of her grandmother's estate, which was worth £650,000. The case appeared on the front page of the Daily Mail and is a significant case in this area of law.
Sarah also feels strongly about financial abuse of the elderly. Whether the abuse take place by those in a  formal position of trust, such as attorneys and deputies or by friends or relatives of an elderly person, Sarah is determined to take action whenever possible to protect the rights of victims. She has written a number of articles on this issue and is currently campaigning for a change in the law to prevent predatory marriage. This is when a vulnerable person, often elderly,  is married for financial or other gain,  usually by someone much younger than them. The marriage may take place in secret, without the victim's family being aware. Because marriage revokes a will,  the predator will then often inherit their victim's entire estate on their death.
Sarah is a member of the Association of Contentious Trust And Probate Specialists and Solicitors for the Elderly.
From 2006 to 2011 she acted as the firm's Managing Partner and won the Association of Women Solicitors (AWS) Award for Managing a Small Practice in September 2009. The AWS has over 18,000 members. She was then one of 5 women solicitors shortlisted in the AWS Legal Business Woman of the Year category at the prestigious Law Society Excellence Awards. Sarah was also a finalist in the Women in Business Awards 2015 (Yorkshire and North East) in the "Inspiring Leader" category.
When she's not at work, Sarah enjoys running, bodypump and walking her dog as well as looking after her three children, all of which she is aware would keep her fitter if she didn't eat so much chocolate.
KEY NEWS ARTICLES FROM SARAH
---
---