Emma Hopkins Jones
---
Partner
Department: Family & Matrimonial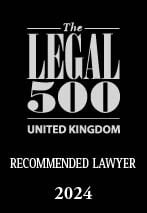 Emma joined Ridley & Hall as a Partner in September 2020. Emma is an experienced family law specialist, practising in all areas of private family law. Emma's expertise in financial issues on separation, and in particular cases involving unmarried couples, was recognised in the Legal 500 2017.
Emma studied at the University of Warwick and at then the College of Law in York, qualifying in 2007. Having worked for many years in Leeds and in York Emma has strong links with other professionals, businesses and charitable organisations across Yorkshire enabling her to provide holistic support to her clients. Emma works closely with other professionals to support her clients moving forward and is known for providing straight forward, practical and jargon free advice.
Emma helps clients on and after separation, as well as to plan for the future. On separation Emma can provide advice on divorce/dissolution proceedings, advice for unmarried couples, on financial matters and the arrangements for children. Having trained and worked at a commercial law firm Emma has particular expertise in cases involving substantial assets but also recognises that often the most difficult cases are where the focus is how to meet needs for the future. Emma has experience in dealing with complex cases regarding safeguarding of children, domestic abuse and parental alienation.
Emma has an expanding practice in helping couples plan for the future whether on moving in together, where a cohabitation agreement may be appropriate, or on marriage or entering into a civil partnership, with pre-nuptial agreements. Emma can also assist clients who are conceiving a child through assisted reproduction in applying for parental orders in cases of surrogacy.
Emma is an active member of Resolution (First for Family Law) and is a current member of the national Resolution Cohabitation Committee and former member of the regional West & North Yorkshire Resolution Committee. Emma is a member of a Working Group on Domestic Abuse and the Family Courts in York that aims to improve the workings of the family courts to better support victims and their families, was a member of the Multi Party Parliamentary Group on the Family Courts with Emma Pearmaine and a volunteer with YorLaw, a free legal advice service founded by Citizens Advice York.
In her spare time Emma is a politics and current affairs geek, a yoga enthusiast and most of all enjoys spending time with her young family.
Memberships
Resolution, Leeds Law Society, Working Group on Domestic Abuse and the Family Courts, Labour Party, Women's Equality Party
---
Family & Matrimonial Team
---