Wills & Probate
---
Having worked hard to make a secure future for yourself and your family in your later years, it is important that while you are able to do so, you consider planning for a time when you may not be able to manage your wealth as well as you can now.
In addition, you want to ensure that what you own will eventually pass to the people you care about, in the manner you desire. In our experience, most people have the same concerns.
These issues require careful thought and appropriate legal advice. That is why we offer a range of services to cater for the most common worries people have as well as being able to advise you about more complex and individual situations.
---
Why choose Ridley & Hall Wills & Probate Team?
---
Wills
Thinking about and planning for your own death can be extremely difficult. This may be the reason why many clients we meet have not yet got around to making a Will. In our experience however, making decisions about what is going to happen to your assets after you die, actually helps to put your mind at rest whilst you are alive.
If you do not make a Will, the people you would like to inherit your estate may not get what you want them to have. The intestacy rules which apply if you die without a Will do not recognise step children or "common law" spouses, and will pass your estate to the Crown if you have no living family at death. In some cases not having a Will may mean more inheritance tax is payable when you die.
It is particularly important that you make a Will if you have young or disabled children, a disabled spouse, or an unmarried partner.
Ridley & Hall can help you put together a Will which meets your needs and at the same time advise you on the tax implications connected to your estate.
---
Inheritance Tax planning
Inheritance tax is currently charged at 40% and affects many UK families, even those with modest wealth. This is mainly due to the rise in property values over the last few years and it is estimated that millions of UK homeowners may now fall within the clutches of this tax.
Proper inheritance tax planning could save your family thousands of pounds. Contrary to what you may think, inheritance tax is regarded as one of the most avoidable of taxes.
Ridley & Hall can provide you with an assessment of your potential tax liability on death and discuss with you proper planning to mitigate any tax due. If you want to address tax issues in your lifetime as well as in your Will, we can put you in touch with an independent financial advisor that will be able to help you.
---
Powers of Attorney
The population of the United Kingdom is ageing. It is said that in the last 35 years the number of those in the UK aged over 65 grew by 31%. It is predicted that this figure will increase as time goes on.
At Ridley & Hall we think it is very important to make plans now for your old age, when you may not be able to manage your affairs due to mental or physical impairment.
Powers of Attorney
Whilst you retain the ability to make decisions for yourself, you should consider very carefully choosing someone to look after your finances and/or your physical welfare in the event you cannot carry out these duties. You can appoint someone to deal with these aspects by choosing an attorney.
Powers of Attorney
We can help you by:
1. Advising you about general powers of attorney and lasting powers of attorney and which may be appropriate to your circumstances
2. Discussing the requirements an attorney may need to meet and who may be an appropriate choice as an attorney for you
3. Drafting the necessary power of attorney document for you, and ensuring it is signed correctly by all parties
4. Explaining to you the steps that need to be taken so your attorneys can commence acting under a lasting power of attorney for you
Previous
Next
---
Loss of mental capacity and the Court of Protection
If someone still has the mental capacity to make decisions for themselves they can choose to appoint someone (an attorney or attorneys) to manage their property and financial affairs, and their health and welfare decisions in the future by making a lasting power of attorney.
If someone lacks mental capacity – and they do not have either an enduring power of attorney or lasting power of attorney in place already – then it may be necessary for someone to be appointed by the Court of Protection to act as their "deputy".
The Court of Protection – what is it and what does it do?
The Court of Protection make decisions on financial or welfare matters for people who can't make decisions at the time they need to be made (they 'lack mental capacity'). which affect people who do not have the mental capacity to make important decisions themselves.
The Court of Protection are responsible for:
deciding whether someone has the mental capacity to make a particular decision for themselves
appointing deputies to make ongoing decisions for people who lack mental capacity
giving people permission to make one-off decisions on behalf of someone else who lacks mental capacity
handling urgent or emergency applications where a decision must be made on behalf of someone else without delay
making decisions about a lasting power of attorney or enduring power of attorney and considering any objections to their registration
considering applications to make statutory wills or gifts
making decisions about when someone can be deprived of their liberty under the Mental Capacity Act
The Court of Protection's powers are defined by Mental Capacity Act 2005. The Act has 5 key principles: –
Every adult has the right to make his or her own decisions and must be assumed to have capacity to do so unless it is proved otherwise.
People must be supported as much as possible to make a decision before anyone concludes that they cannot make their own decision.
People have the right to make what others might regard as an unwise or eccentric decision.
Anything done for or on behalf of a person who lacks mental capacity must be done in their best interests.
Someone making a decision or acting on behalf of a person who lacks capacity must consider whether it is possible to decide or act in a way that would interfere less with the person's rights and freedoms or action, or whether there's a need to decide or act at all.  In essence any intervention should be proportional to the particular circumstances of the case.
Statutory Wills
Statutory Wills are made by the Court of Protection on behalf of an individual ('P') who has lost capacity. The court's authority is derived from the Mental Capacity Act 2005 (MCA 2005).
When considering whether a Statutory Will can be made on behalf of an individual, their lack of capacity in respect of the making of a Will must be addressed.
How can we help you?
At Ridley & Hall we have an experienced team to help you to identify the most suitable course of action for your loved one. If the person lacks mental capacity, and you do need to apply to the Court of Protection, we can advise you on:
What information the court will require if you make an application to act as a deputy for someone who lacks mental capacity.
The documents you will need to complete when making an application – we can help to fill in the forms if you would like.
Your responsibilities if the court appoints you as a deputy.
Why the Mental Capacity Act 2005 and its Code of Practice is important and what deputies need to know about them.
Making gifts when you are a deputy.
The deputy's inherent duty to maximise their client's income.
How to prepare and complete deputyship accounts and reports.
The process for making a Statutory Will if one is needed.
Any other property and financial issues which affect the person who lacks mental capacity.
Previous
Next
---
Probate & Estate Administration
When a loved one dies it can be a very distressing time, and dealing with the administration of their estate can seem overwhelming. Consequently, dealing with the paperwork and technicalities involved may be the last thing you want to do. We are here to help you, offering as much support and assistance as you need.
Our experienced lawyers will offer you the highest level of client care and value for money within our various estate administration services. We believe that you will find this invaluable and will give you peace of mind at an already difficult time. There are many ways in which we can help, such as:
assisting with the registration of the death or helping with funeral arrangements
sorting out the paperwork in the estate
advising on the meaning of the terms of the Will or the relevance of the intestacy rules if there is no Will
explaining the tax issues connected to the estate
helping with the sale of any property
---
What is Probate?
When a person dies with a Will, with (generally) more than £5,000.00 as any one asset, that asset is frozen and cannot be accessed without a court document called a "Grant of Probate". The executors, appointed under the deceased's Will apply for a Grant of Probate at court, after completing certain paperwork.
If a person dies without a Will this is called dying 'intestate'. The nearest living next of kin are entitled to the estate and must usually also administer it. It is therefore the closest next of kin who are entitled to apply to court for the Grant necessary to collect in the assets. This Grant is called 'Letters of Administration'.
Either type of Grant is merely a piece of paper but importantly it gives an executor or administrator the authority to deal with assets in the particular estate in question. For instance, if banks and building societies hold money in excess of £5,000.00 belonging to the deceased, generally the Grant must be produced to them in order for the funds to be released.
The job of executor or administrator can be fairly time consuming, depending on the size of the estate in question. A brief overview of the most common types of work that may have to be undertaken is given below. Sometimes matters are more complicated and the work required may be more extensive. Each case is unique so there is no single catch all rule for all.
Common Duties
Registration of the death and dealing/assisting with the funeral arrangements
Valuing the deceased's assets and debts and thereafter completing the correct Inland Revenue inheritance tax return
Arranging for payment of any inheritance tax due
Making the application to the court for the correct Grant
Collecting in the assets and/or selling any property once the Grant has issued from the court
Paying debts and liabilities owed by the deceased prior to death and paying any debts incurred on the administration of the estate
Distributing the estate according to the terms of the Will, or the intestacy rules where there is no Will. This may involve a transfer of the estate assets to the beneficiaries.
Ridley & Hall can help you with all of the above duties.
Other helpful information in connection with estates:
Inheritance tax is payable on death at 40% of the balance above the nil rate band (NRB) threshold. The current NRB is £325,000.00 but note that the Government reviews this figure regularly. Please contact us if you are in any doubt.
It may be possible to change, after the death, to whom the assets pass in the estate in order to reduce the amount of inheritance tax payable. You should take professional advice regarding this issue. Ridley & Hall can assist you in this area.
Claiming the transferable nil rate band. In basic terms the procedure allows spouses and civil partners to transfer any part of their unused nil rate band (NRB) to the survivor of them. This applies to second deaths even if the first spouse died prior to 9th October 2007. Ridley & Hall will be able to tell you if this procedure is applicable to the estate you are dealing with and the type of information that you will need to provide to the Inland Revenue to claim under it.
If any beneficiaries of an estate cannot be found the surviving family or other beneficiaries do not automatically inherit the missing persons share of the estate. In such a scenario it is advisable to seek the advice of a genealogist. In most cases, the missing beneficiaries will be found.
If beneficiaries remain missing even after an extensive search, the executors/administrators have a range of options which they can take to protect themselves. Ridley & Hall can advise you of these options should it be necessary.
Previous
Next
---
---
Our Pricing Structure
---
Estate Administration
GRANT ONLY – this involves us assisting you just in obtaining the grant of representation to allow you to deal with the deceased's assets and distribute the estate
Our grant only service includes:
Meeting to take initial instructions
Contacting the financial institutions for information on the value of assets where appropriate
Preparing the short form inheritance tax return IHT 205
Drafting the application for a grant
Obtaining the Grant of Probate or Grant of Letters of Administration and sealed copies
Fees start from £800 plus VAT (£960) and disbursements HOWEVER where estates include any of the following:
A search is required to locate the Will
Tracing beneficiaries of the estate
Where the deceased was domiciled abroad or there are foreign assets
If IHT 205 is not appropriate and IHT 400 is necessary
Transfer of unused nil rate band for Inheritance Tax
Claiming residence nil rate band for Inheritance Tax
Fees start from £1,200 plus VAT (£1,440) and disbursements 
FULL ESTATE ADMINISTRATION
Where you want us to assist you with more than just obtaining the grant of representation on your behalf, and you want help dealing with the other aspect of the estate like gathering in the assets, paying the debts of the estate and distributing the estate to the beneficiaries, we will undertake this work for you on a time spent basis – so you pay for the time we spend carrying out the work on your matter. The hourly charge out rates vary between our professionals who will be assisting with your file.
| | |
| --- | --- |
| Directors and Partners | £260.00 to £300.00 |
| Senior Solicitors | £240.00 |
| Senior Paralegals & Senior Legal Executives | £200.00 |
| Solicitors with more than 4 years PQE | £200.00 |
| Solicitors with less than 4 years PQE | £185.00 |
| Paralegals & Trainee Solicitors | £150.00 |
We like to be as open and honest about costs as we can, but it can often be difficult to tell exactly how long it will take to administer an estate at the very beginning, as unforeseen issues can present themselves during the administration period. We will however do our very best to give you an accurate costs estimate at the outset (although this will be reviewed on an ongoing basis throughout our time working with you and we do reserve the right to amend our estimate). If our fees are going to increase, we will discuss this with you before proceeding any further. No two estates are the same, so the estimated fees we provide will be specific to your circumstances for example the number of assets there are, the number of beneficiaries there are, whether or not there are any properties within the estate etc. All of these factors can affect how long it will take to administer the estate.
---
Full Estate Administration Examples
To give you an idea as to how much it will cost for us to carry out this work for you, we have tried to outline this for you below.
Administration of a simple estate
Administration of a simple estate – this can take between 15 and 30 hours, depending on individual circumstances
Typically, this service will include:
Meeting with you to take instructions
Valuing all the assets in the estate
Arranging payment of the funeral costs
Liaising with utility companies
Preparing the short form inheritance tax return IHT 205
Drafting the application for the grant
Obtaining the Grant of Probate or Grant of Letters of Administration (depending on whether there is a valid Will or not) and sealed copies
Collecting in the assets
Paying any known debts and liabilities
Reclaiming income tax
Arranging payment of all the legacies
Preparing estate accounts
Distributing the estate between the beneficiaries
Fees start from £3,000 plus VAT (£3,600) – but they are likely to be more than this and could be up to £7,800 plus VAT (£9,360) – and disbursements.
If, for example, an estate has a small number of bank accounts, one beneficiary and no property, our fees will be towards the lower end of this scale, but if there are lots of beneficiaries, a house to sell and various assets to gather in and debts to settle, it will be towards the upper end.
Administration of a larger / more complex estate
Administration of a larger / more complex estate – this is likely to take more than 30 hours of work to complete
Typically, these estates will include the same service as for a small estate and may also involve:
The deceased was domiciled abroad or the estate comprises foreign assets
Dealing with multiple properties within an estate
Business assets
Agricultural assets
Undertaking a will search
Identifying the beneficiaries in the estate
Preparation of IHT 400 (the more complicated Inheritance Tax form required by HMRC) and its accompanying schedules
Claiming the residence nil rate band
Application for the transfer of Inheritance Tax nil rate band
Completion of income tax returns
Capital gains tax advice and returns
Trusts
---
We must also advise you that where there is a property (or properties) to sell in the estate, that the conveyancing costs will be charged in addition to the estate administration fees. The sale fees are NOT included within our estimates. Quotes for the sale of the property can be given by our colleagues in the conveyancing department, and we can help you to obtain this.
Also, if the Directors of Ridley and Hall are appointed as the Executors of an estate there will be an additional charge applied to reflect the risks and responsibilities associated with our appointment. This charge would be 1% of the gross value of the estate, excluding the residence, plus 0.5% of the value of the residence if it is held in the sole name of the deceased and 0.25% of the value of the residence where it is held in joint names. This is based on usual probate practice and we can explain how it will apply in your case.
---
Disbursements
Disbursements are payments made by us to third parties on your behalf, for example:
Court fees for probate applications – £155
Sealed copies of the grant – £1.50
Placing s27 notices in newspapers (this protects Executors from unknown creditors) – £200 to £350
Bankruptcy searches – £2
This list is indicative, and not exhaustive. We may also ask for payment of disbursements on account.
---
Trusts
Trusts can be set up in a person's lifetime. They can also arise on death under the terms of a Will or, if there is no Will, under the intestacy rules if any beneficiary is under 18 years of age. The rules introduced by the Finance Act 2006 are complex and have wide ranging effect on trust structures both old and new.
If you want to set up a lifetime trust to manage your assets for someone else's benefit, you should choose an experienced solicitor to write the deed of trust on your behalf and also advise on the tax and administration implications connected to it.
Ridley & Hall can assist you with choosing the right kind of trust within your Will, setting up the correct trust in your lifetime, and your duties if you have been appointed as a trustee under an established trust.
In addition you can appoint one or more of our partners to act as trustee for any trust you wish to set up.
What is a trust?
A trust is a legally enforceable arrangement, set up either in your lifetime or on your death (normally) by a written trust deed.
On creation of a lifetime trust you hand over some of your assets (eg money or property) to be looked after by someone else, known as a trustee, for the benefit of another person or persons, known as the beneficiaries.
Once you hand over the assets you cannot benefit from them again unless you have nominated yourself to do so under the terms of the trust deed. There are tax implications connected with being a beneficiary of your own trust.
A trust arising on death does not come into effect until you die. It will either arise under the terms of your Will, but can arise under the intestacy rules (where there is no Will) and any of the beneficiaries entitled to benefit are under 18 or come within the special rules applicable to a spouse.
A written trust deed (either created in your lifetime or under your Will) allows you to specify how you want the trust to be administered. For instance you can say when beneficiaries are entitled to the assets in trust. Many people leave money in trust for children, and nominate them to receive it once they reach a certain age.
There are many different types of trust. There are also tax and other issues arising from the Finance Act 2006 which you need to carefully consider before deciding whether a trust is right for your circumstances.
Reasons to set up a trust
Common reasons for setting up a Trust are:
1. To reduce inheritance tax for your family or to reduce your own tax burden
2. To pass assets on your death without the need for a Grant of Probate
3. To take care of assets for the benefit of children, or to pay for their school fees or education
4. To shield assets for the benefit of another who is too disabled, sick or old to look after them personally, or who may be in local authority funded care
Trustees duties
You need to choose trustees to manage the trust. If land is to be put into trust you will need at least two trustees. You should choose someone who is not too old, who you trust to carry out your wishes and who agrees they have the time to dedicate to the work involved. Trustees can retire when they no longer wish to act, and a replacement be appointed for them.
You can decide in the trust deed who has the power to appoint a new trustee when this happens. The duties of a trustee are fairly wide. A brief overview of their role can be summarised as the need to:

– Meet regularly to discuss issues connected to the trust and keep written records (minutes) of those meetings
– Manage the trust assets and ensure that yearly accounts are drafted.
– Invest the trust assets in accordance with the law governing this area. The trust deed can widen the powers given at law
– Make payments in accordance with the terms of the trust. Sometimes trustees have a discretion as to whether to make payments and they should ensure this discretion is exercised when dealing with distributions.
– Open the trust at the Inland Revenue, prepare yearly tax returns and pay the right amount of tax due on time
– Deal with the sale and reinvestment of the trust assets as and when necessary
You can appoint one or more of the Partners at Ridley & Hall to act as trustee(s) for your trust if you wish. Alternatively, existing trustees can appoint Ridley & Hall as agents for them to assist with their duties as summarised above, or to obtain independent advice about those duties.
---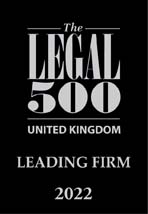 The Legal 500 Says:
"…Huddersfield and Lynsey Bashforth in Pontefract lead the team at Ridley & Hall. Handling will writing, estate planning and administration, the offering also covers lasting powers of attorney, deputyships, Court of Protection work and trust administration. A particular specialism is estate administration and contentious matters involving missing people and elder financial abuse."
---
---
---
Frequently Asked Questions
---
---